St Joseph's Roman Catholic Primary School is a busy inner-city primary in the centre of Deptford. The school occupies a tight site between Deptford town centre and public open spaces surrounding Thomas Archer's baroque church of St Paul. The school is housed primarily in a three storey Victorian block but has been recently extended with a new reception and school hall.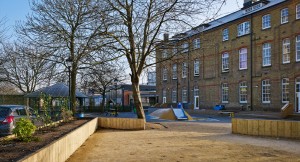 The school's outdoor spaces were an incoherent jumble of poorly connected and under-equipped tarmac playgrounds that ill-served the needs of pupils or the academic ambitions of the school. Jon Sheaff and Associates, working in partnership with Cazenove Architects, were appointed to develop a new strategy for school spaces that would support the complimentarity of indoor and outdoor spaces and make maximum use of the school's limited space.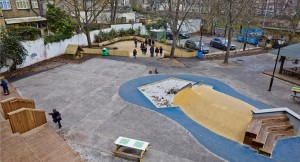 Within the playground, we developed a new deck and canopy to provide much needed storage and a covered area for outdoor study. We also developed active and calm zones to support different qualities of play activity and social interaction. The scheme was completed within the exacting demands of the timetable with little disruption to school activity.