Camden Council sought to develop a new masterplan for central Somerstown as part of a project to re-provide the Edith Neville Primary School. Jon Sheaff and Associates were commissioned to develop a new landscape strategy as part of a team led by Nicholas Hare Associates.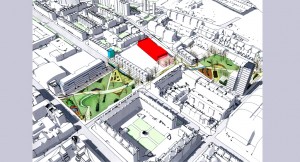 Somerstown is a unique part of central north London, sandwiched between King's Cross St Pancras, Euston Road and Euston Station. The area has a unique character and a long-established and extremely diverse community. Somerstown has been subject to considerable development pressure over the past decade and the development of the King's Cross basin, the British Library and the Francis Crick complex have impinged upon the southern and eastern sides of the neighbourhood. This pressure is set to continue with the impending regeneration of Euston Station.
Camden Council had resolved to re-provide the Edith Neville Primary School in 2007 but the project had stalled. A new design team was put together to look at how a re-provided school might impact on public realm. The scheme was predicated upon an assumption that a net budget of £5m for the project would not be exceeded with the remainder of capital costs being generated by the provision of new housing within the masterplan area. The masterplan thus had to consider how open space use would be impacted upon by new residents as well as the spatial implications of new stock.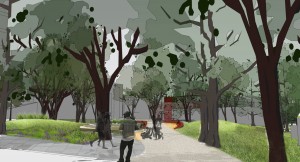 JSA prepared an analysis of public open space provision across the whole of Somerstown and consulted widely across the neighbourhood to ensure that the needs of different groups of stakeholders were addressed through the project.
The final project was approved by Camden Council in December 2013 and now forms the brief for further procurements in respect of the re-provision of the school and new housing and public open space developments