Mabley Green is a distinctive public open space on the southern fringe of Hackney Marsh. The site is dominated by the 'Mabley Rock' artwork and is fringed with  avenues of mature plane trees. The Green has traditionally been maintained as short grass for sports use but local residents have more developed aspirations for the site.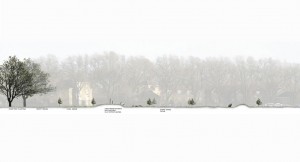 Hackney Council has a long-standing agreement with the Football Foundation to construct a second all weather football pitch on Mabley Green but a planning application in support of this aspiration failed in 2012.
Hackney Council commissioned Jon Sheaff and Associates to develop a new masterplan for the space that would address local stakeholders aspirations, preserve an important habitat that has developed on a derelict Redgra pitch and include a second all weather pitch and new play facilities.
JSA has worked intensively with local residents to develop new thinking for the site and this has culminated in a new masterplan that will be considered by the Hackney Planning Committee in July.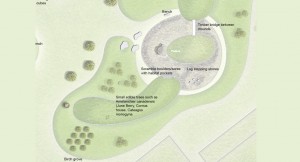 Central to the the masterplan is the concept of an edible park – a foraging landscpe that will include a variety of traditional and non traditional food crops and fruit trees. This landscape will be placed in a gently undulating landscape created from groundworks excavations for the new sports facility. Bio-diversity will be enhanced by augmenting areas currently maintained as short grass with native species and the adoption of a simplfied mowing regime  the current short grass to encourage self-seeding. A variety of play offers will be woven through the scheme including opportunities for children with disabilities and children on the autism spectrum and natural play opportunities.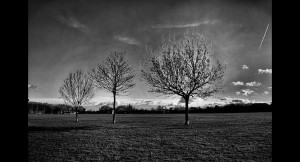 To secure the longer-term sustainability of the site, JSA is working with the London Orchard Project to develop a community engagement programme that will include an opportunity for local residents to grown forageable food and acquire skills in the management of fruit trees and food crops.
Community planting on Mabley Green
'Local volunteers and community organisations and contractors ground Control have joined forces to begin the transformation of Mabley Green. Ground works have created a valley surrounded gently undulating mounds within which dozens of new fruit trees and food producing shrubs have been planted. Around the edge of the site, 500 shelter belt trees have been installed to break wind speeds and help to create a suitable micro-climate for food crops. Work is continuing on site to create a new children's playground specifically designed around the needs of children with disabilities and children on the autism spectrum. The project will be completed in June 2016.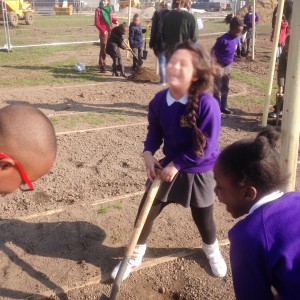 Ryan O'Kane of Helping Britain Blossom commented that 'Mabley Green is a fantastic example of the huge range of benefits that a community orchard can offer: from learning new skills including horticulture and cooking as well as knowledge of where our food comes from, to encouraging volunteering, bringing people together from different backgrounds and creating wonderful social spaces that improve our health and wellbeing. Plus there's the added benefit of free fruit for the whole community.'