Hackney Marshes is a unique environment in the lower Lea valley. It is also the largest public football facility in Europe. As part of its long term sports development strategy, Hackney Council has raised funding to re-provide the semi-derelict changing rooms at North Marsh. The scheme will provide a purpose-built chaging block servicing recently developed cricket pitches in this part of the Marshes.
The site of the proposed changing rooms is adjacent to the existing Site of Interest for Nature Conservation running along the Hackney Navigation. Hackney Council has engaged  Jon Sheaff and Associates to develop a landscape scheme that will reinforce the diversity of the SINC  and support the integration of the building into the distinctive flat an open landscape of North Marsh.
Jon Sheaff and Associates have worked closely with architects Studio E and local users and stakeholders to develop a low impact landscape scheme including fully SuDS-complaint roadways and pathways, a brown roof for the proposed building and a planting design built around species typical of this part of the Marsh.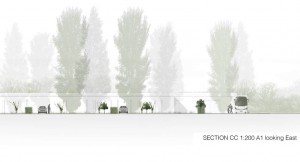 We have worked with the local tree nursery to ensure that rare male and female Black Poplar (a species specific to the Marsh that has been declining for some time) will be re-planted using stock of local provenance.