In the context of our membership of the CABE Built Environment Expert Panel, JSA were commissioned to support the villages of Freshford and Limpley Stoke in the production of a neighbourhood plan for submission to and adoption by the North East Somerset local planning authority.
The plan focused on a number of projects to develop a unified public realm identity for both villages and a series of links that would join together two settlements separated by a mile of open countryside.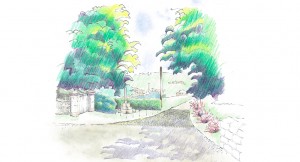 Through a consultation process JSA identified projects for development and created visualisations that would add design quality to a submission that was otherwise planning-driven. We consulted extensively with residents and developed proposals that could emerge as capital schemes in future phases of the project. These included a branded village entry scheme design, new linking footways, a new war memorial site and a village orchard.
The Freshford and Limpley Stoke Village Plan was adopted by North East Somerset Council in the summer of 2014.